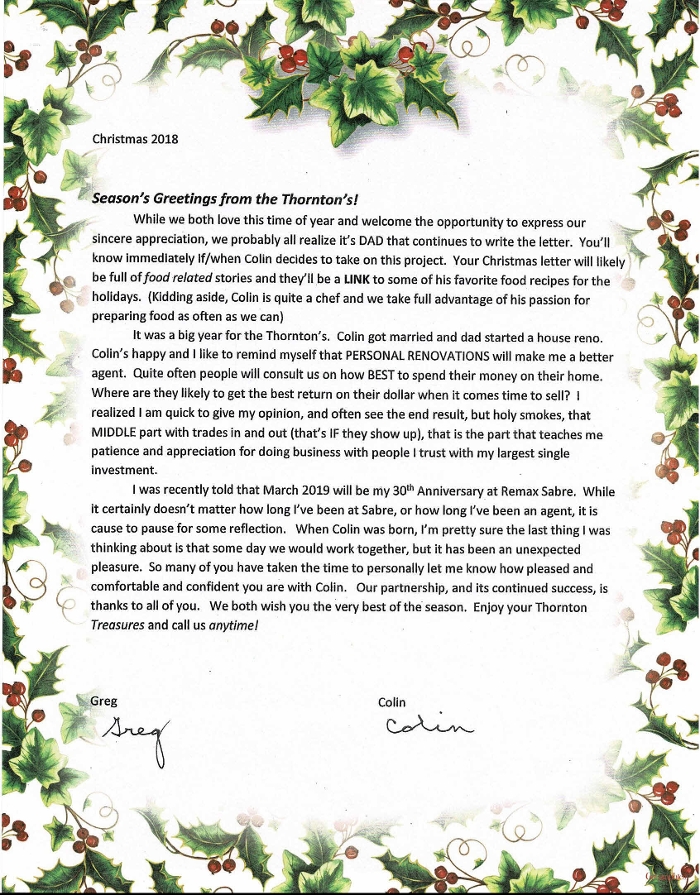 While we both love this time of year and welcome the opportunity to express our
sincere appreciation, we probably all realize it's DAD that continues to write the letter. You'll
know immediately if/when Colin decides to take on this project. Your Christmas letter will likely
be full of food related stories and they'll be a LINK to some of his favorite food recipes for the
holidays. (Kidding aside, Colin is quite a chef and we take full advantage of his passion for
preparing food as often as we can)
It was a big year for the Thornton's. Colin got married and dad started a house reno.
Colin's happy and I like to remind myself that PERSONAL RENOVATIONS will make me a better
agent. Quite often people will consult us on how BEST to spend their money on their home.
Where are they likely to get the best return on their dollar when it comes time to sell? I
realized I am quick to give my opinion, and often see the end result, but holy smokes, that
MIDDLE part with trades in and out (that's IF they show up), that is the part that teaches me
patience and appreciation for doing business with people I trust with my largest single
investment.
I was recently told that March 2019 will be My 30th Anniversary at Remax Sabre. While
it certainly doesn't matter how long I've been at Sabre, or how long I've been an agent, it is
cause to pause for some reflection. When Colin was born, I'm pretty sure the last thing I was
thinking about is that some day we would work together, but it has been an unexpected
pleasure. So many of you have taken the time to personally let me know how pleased and
comfortable and confident you are with Colin. Our partnership, and its continued success, is
thanks to all of you. We both wish you the very best of the season.
Call us anytime!
Greg & Colin